LittleMultiClock is valued at $25.00
Donate a minimum of $10.00 and get a registration.

LittleMultiClock Features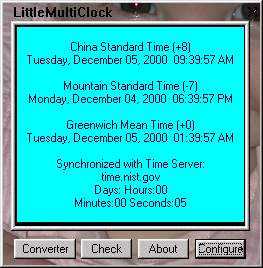 Background Transparent
Your Computer Time Is Always In
Sync With US Time Servers

3 Clocks Visible At All Times
World Time Selectable
Greenwich Mean Time
Your Time
Time Converter between your time and other country: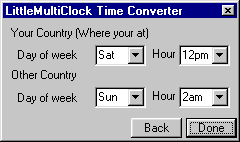 Intuitive Configuration Options: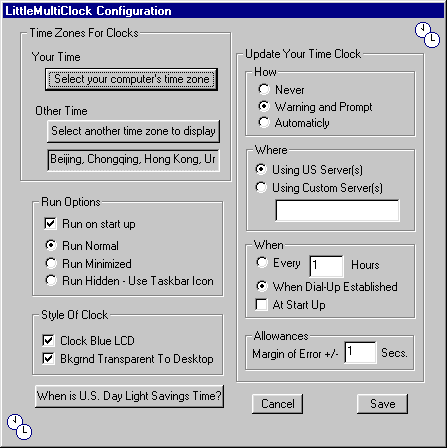 See the local time of the world time zone you select. Database of world time zones. Edit any world time zone rule. Retrieve your current time zone information from Windows.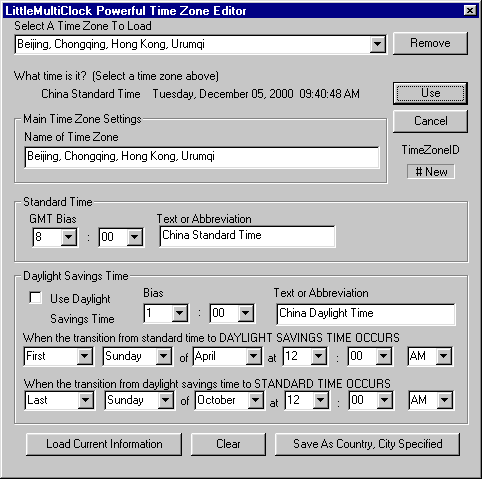 Determine if and when U.S. Daylight Savings Time Occurs.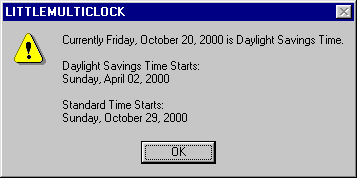 If you have any other features you
would like us to add, we would like to hear from you.


Summary of Features:

See the difference between your computer's time and the atomic time server.
Nice friendly design. Background Transparent To Desktop. Blue liquid crystal display.
Your computer time is always in sync with US time servers.
three clocks visible at all times:
1) World time selectable (savings time flagable)
2) Your time
3) Greenwich mean time
Time converter with easy to use select boxes.
Intuitive configuration options:
1)Run options
2)Update options of How, When, and Where.
3)Database of world times and see local times on demand.
4)Powerful time zone editor.
Determine if and when U.S. Daylight Savings Time Occurs.





LittleMultiClock
Steele Innovations
Michael Steele
Copyright 2000, 2001 All Rights Reserved