LittleMultiClock
Download


(Best Viewed
in 800x640
or more)




LittleMultiClock is valued at $25.00
Donate a minimum of $10.00 and get a registration.

LittleMultiClock Download
V1.10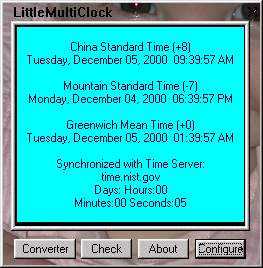 Requirements:

Windows 95, 98, and ME.
Windows NT 4.0, 2000 Server/Pro, and XP.

Update: V1.10 (Approx. 400 KB). YOU MUST DO AT LEAST ONE FULL INSTALL FIRST! Thanks :)


To install the update, you should of installed the full installation version.
Download Update Installation Program
Thank you for updating.



LittleMultiClock
Steele Innovations
Michael Steele
Copyright 2000, 2001 All Rights Reserved